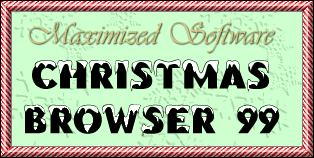 Available Now!
Click here for immediate download (6 MB, requires IE 4)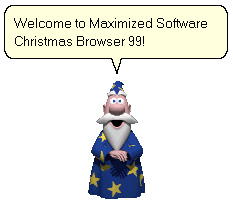 Christmas Browser is a fun way to browse the Web during the holidays. You get holiday scenes, falling snow, and cheery Christmas music. Plus, a cool interface. And the Microsoft Agent adds to your "snow surfing" experience!


This picture shows Christmas Browser 99 with Merlin in action. Snow falls gently down the side of the browser window.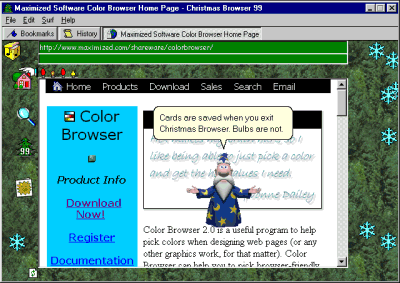 The icons down the left side of the screen are links to web pages. You can create new icon links simply by dragging a link from the browser window to the Christmas Browser desktop. A string of bulbs around the browser window represents the browsing session history. This allows you to quickly see a history of your session and to jump to any other page.
Christmas Browser 99 also comes with a range of seasonal songs in MIDI format. You can turn the music on and off with a simple click on the Music Box. You can also easily add new songs to Christmas Browser by dragging and dropping a MIDI file directly from a web page onto the Music Box.
Christmas Browser makes use of The Microsoft Agent to provide audible feedback when web pages are fully loaded, as well as other useful hints. The animated agent can speak aloud to you if you need help in Christmas Browser. Or it might simply say "Let's Rock" when you click on the Music Box to start a song.

| | |
| --- | --- |
| Platforms | Windows 95, Windows 98, or Windows NT 4.0. |
| Software | You must already have Microsoft Internet Explorer 4.0 or later installed. Click here to download Internet Explorer. |
| Color | High Color (16 bit) or True Color (32 bit) are recommended. 256-color mode will work but is not recommended. |
| Sound | A MIDI-capable sound card is required to play background music. |


Christmas Browser 99 is available right now! Click here to download Christmas Browser (6 MB).
Christmas Browser 99 is shareware. The shareware fee is $20. Registering Christmas Browser allows you to change the background, use 90 more icons, and many more background Christmas songs. It also helps us support future enhancements to Christmas Browser, so if you like it, please register! To register, run Christmas Browser; open the File menu and choose the Register command.
Upgrades to Christmas Browser 99 are free for registered users of Christmas Browser 97 or Christmas Browser 1.0 (ie, Christmas Browser 96).
---
• • • • • • •

Questions? Contact info@maximized.com
Copyright © 1995-2010 Maximized Software. All rights reserved.